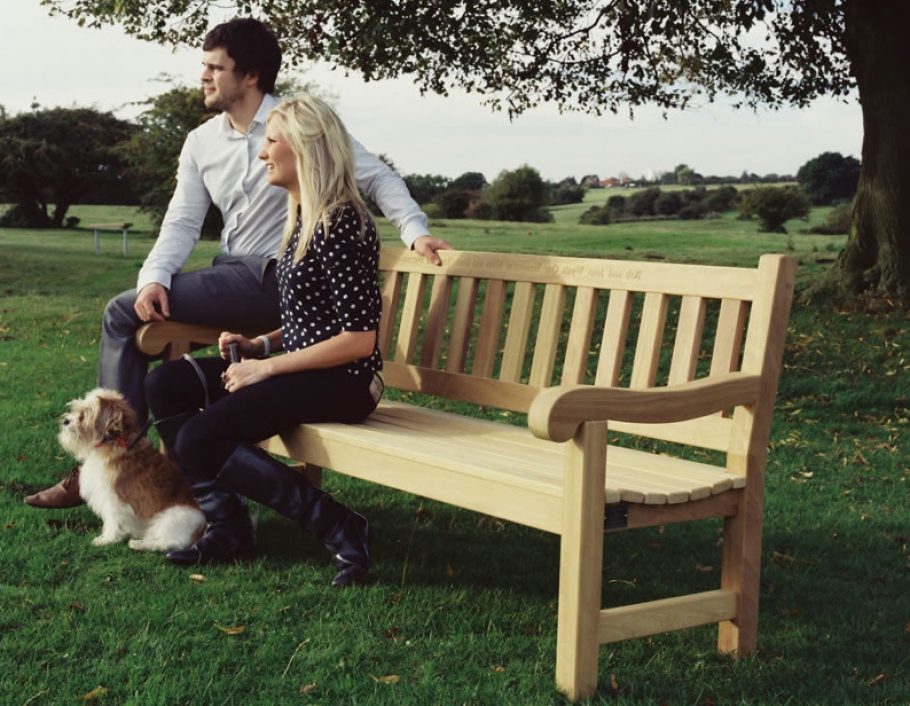 Celebrating 30 years of manufacturing Memorial Benches
Posted on February 20, 2020
Not every memorial bench we make at Woodcraft commemorates a loved one who has passed away. Over the years we have made memorial benches as tributes for notable figures, historical events, pets and even for the Titanic. Our benches are typically made from Oak or Iroko, but we sometimes also use steel and stone. Often our memorial benches are situated in public places, such as parks, open gardens or grounds of stately homes and our favourite being country public footpaths, bridleways and clifftop walks where ramblers can rest their weary legs while taking in the vista.

Our two flagship memorial benches; The York bench and Beverley Bench, are most popular amongst private homeowners and very much suit all garden types. As they are both of a classic design they also lend themselves very nicely to hotel grounds, especially the single seater versions along with our standard tables. All can be inscribed with personal messages and commemorations.
Some of the more unusual request we get for benches as memorials include the Burma Star bench for the Burma Star Island in Queen's Park, Crewe. We created this memorial bench to commemorate the Burma Star Association who works hard to relieve distress and hardship amongst men and women who served in HM and Allied Forces or the Nursing Services during the Burma Campaign of the Second World War.
The shape and aesthetic had to match a large bridge that already existed in the park and the steelwork required the same powder coated colour. The beautiful Sapele hardwood timbers were specifically chosen to contrast with the stainless steel framework and fasteners and we were really proud to pull of this piece. More information on the Burma Star Memorial Bench can be found here.
Our standard ranges of memorial benches are often purchased for high profile commemorations and our Staxton bench is no exception. Here it was used for a fitting memorial to commemorate the centenary of the sinking of the HMS Titanic.
More pictures of our Staxton bench used as the Titanic Memorial can be found here.
We offer a bespoke engraving service where we can create any message in any typeface and any design or family crest. We own a purpose built CNC engraving facility that can engrave any memorial bench with your personalised message. Here are some examples of commemorative memorial engraved benches.
Click on the pictures to enlarge
Whatever your requirements when it comes to a memorial bench with a fitting commemoration, we have the skill and creativity to deliver on your particular project.