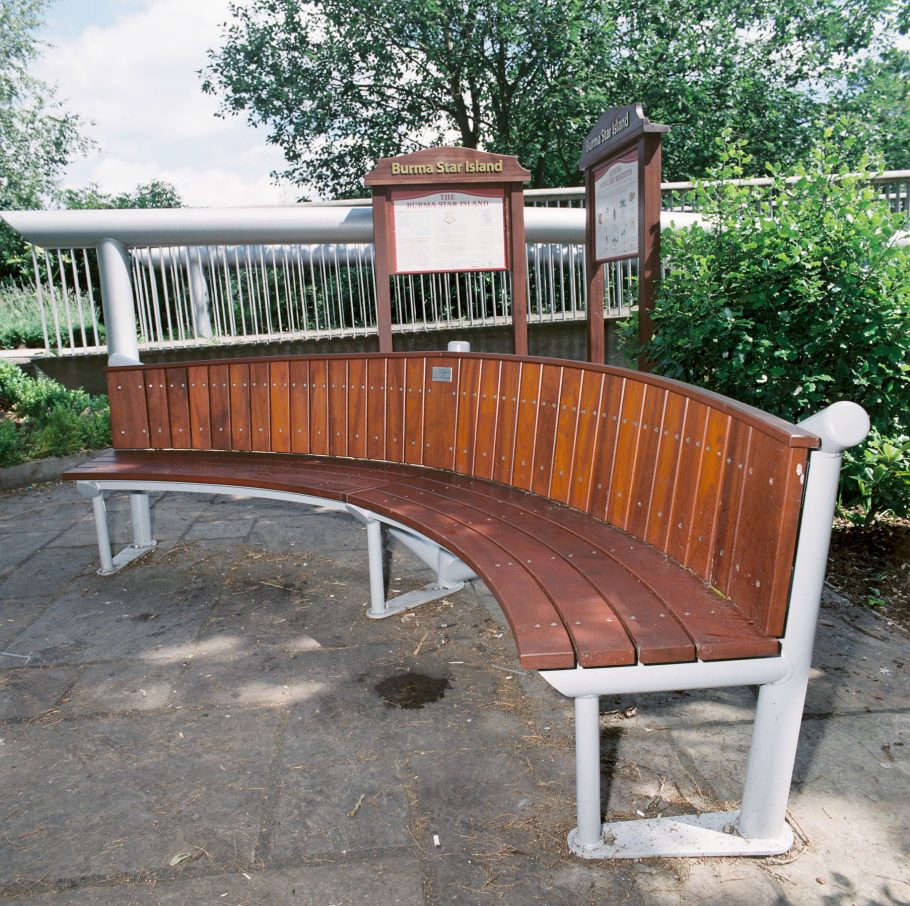 Burma Star Island Memorial Bench
Posted on January 23, 2018
Woodcraft UK has an extensive portfolio of providing signature and bespoke outdoor wooden furniture for local authorities across Britain. In fact, our team has worked with so many over the last 27 years that we've quite frankly lost count. That's why when a client on behalf of Cheshire East Borough Council got in touch, we knew that we wanted to be part of it.
The conversation involved our client telling us about a bespoke piece of urban furniture to pay tribute to the Burma Star Association. This essential organisation works hard to relieve need, distress and hardship amongst men and women who served in HM and Allied Forces or the Nursing Services during the Burma Campaign of the Second World War. The commission would take the form of a unique curved bench, then given a fitting residency on Burma Star Island in Queen's Park, Crewe.
Our brief was to design the bench out of wood and stainless steel. Simple enough so far. However, the shape and aesthetic had to match a large bridge that already existed in the park. Meanwhile, the steelwork required the same RAL powder coated colour, which would result in the bench also matching in terms of hue. As for the timbers, they needed a specific type of staining; a beautiful Sapele hardwood was specifically chosen, thanks to its pleasing contrast with the stainless steel framework and fasteners.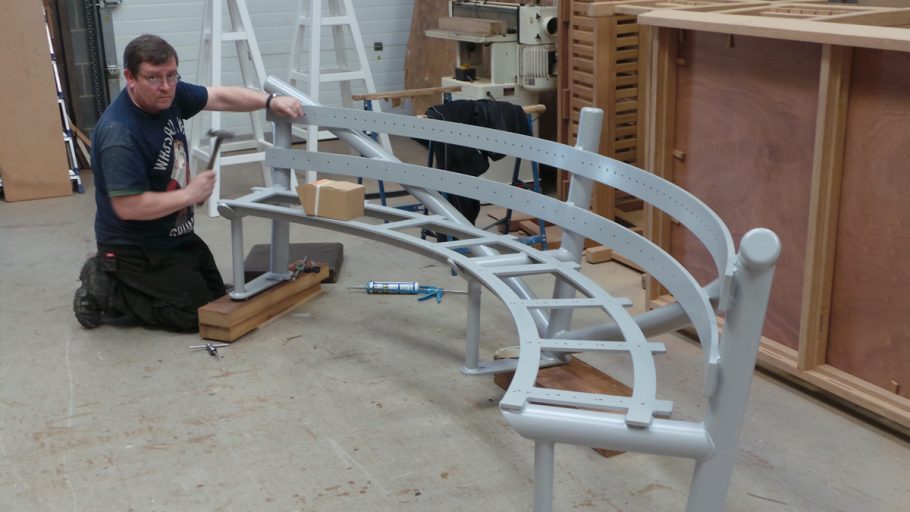 As we're sure you know, our team loves a challenge, especially when it's a creative project that can be viewed and enjoyed by the general public whilst conveying an important message. Burma Star Island was unveiled in 1968 by the Mayor of Crewe and the Bishop of Chester. It hosts a brass plaque mounted on stone with an inscription, with a replica of the Burma Star above it. Despite the Second World War ending over 70 years ago, the association still has 2,500 members across the globe, spread throughout 42 branches within the UK and 4 overseas. The bench would further enhance the monument and honour those affected by its context.
Woodcraft UK was commissioned to not only design and manufacture the bench, but also install it. Luckily for our customers, this is one of our specialties, as we know exactly what kind of fittings are required no matter what type of ground. After all, a piece of urban furniture has to be safe, secure and guarantee longevity, not just look the part.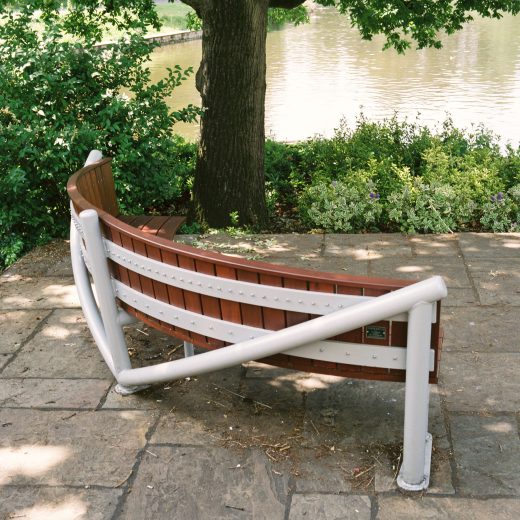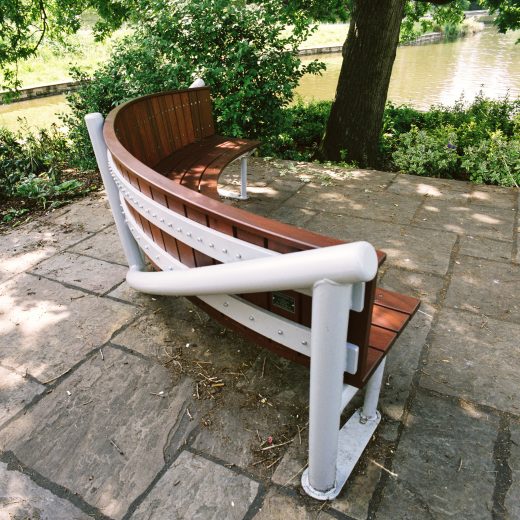 Our client provided some preliminary sketches, which allowed us to get a peek at their vision. Our design specialists then took these as the basis, tweaking and improving according to our company's decades of expertise in structural integrity, comfort and style. We submitted several additional sketches and engineering drawings, collaborating closely with our client throughout the entire process. Whilst we're happy to take a job off a customer's hands, we find that the best results come from two-way communication and a method of working that encourages input and free-flowing ideas.
Thanks to this strong and valuable joining of forces, Woodcraft UK completed the bench in no time at all. Cheshire East Borough Council were very pleased indeed, and the end product really does look incredible in its green environment beneath open skies.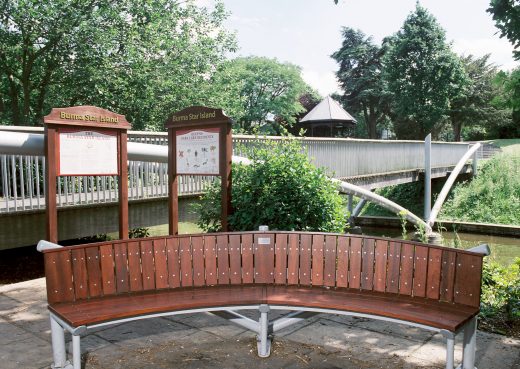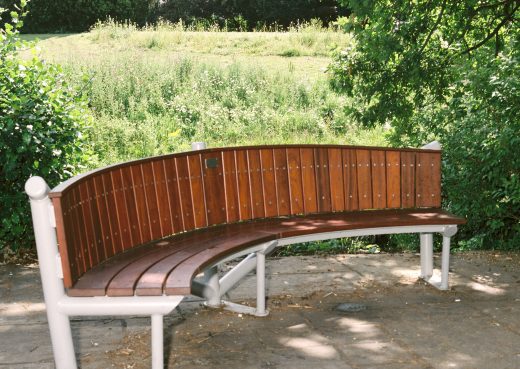 If you have an urban furniture project, whether it's benches, tables, information boards, signposts or any other type of wooden outdoor structure, get in contact with Woodcraft UK today. We're working on more innovative and highly bespoke commissions than ever before, many of which have the additional function of highlighting a cause. Another example to complement the Burma Star Association bench is our recent work for WE100, which was launched in Paddington Station by campaign ambassador Janet-Street Porter.
We're based in Hull, East Yorkshire, yet our stylish urban furniture can be found everywhere from London to the TransPennine Trail, and there are even some of our benches in Europe. For a friendly chat, call 01482 887921 or use our contact form – together we'll make your dream project a reality.