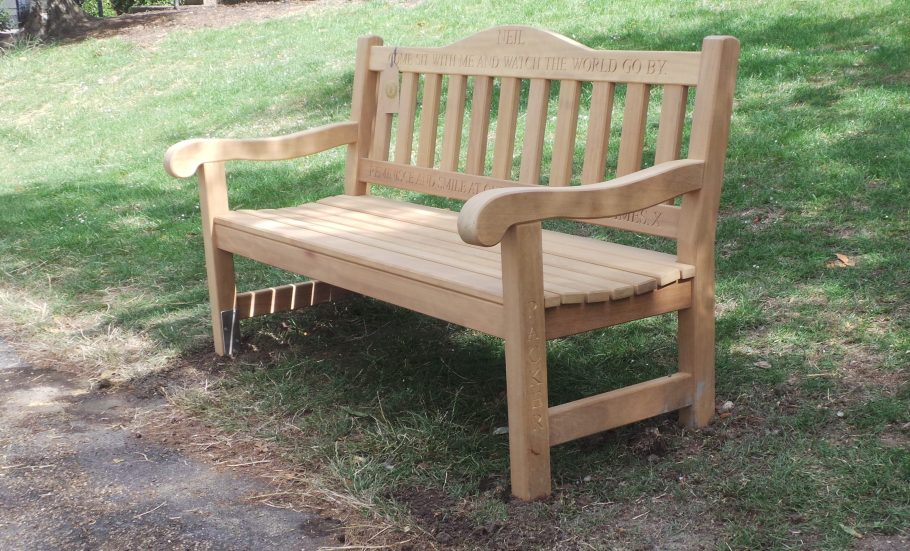 Three new memorial park benches for East Park in Hull.
Posted on July 12, 2023
We're installing three new memorial benches in East Park in Hull this week. East Park is one of two locations we call our spiritual home, the other being Beverley Westwood in East Yorkshire. In East Park there are around thirty of our benches there, some dating back almost twenty years.

For more about our benches in East Park click here.

Mendip Bench
The first of our benches this week is a new Mendip memorial bench with curved top rail. The top rail and legs are engraved with a personal tribute and the bench is anchored to the ground with our own fixing brackets.
Click on the pictures to enlarge
The spot chosen for this bench is lovely. Placed in a shady spot by the lake, we hope many park visitors will use it as a resting spot for many years to come.

Mendip bench with bespoke top rail
Another Mendip memorial bench in East Park in Hull. This one carefully installed on a sloping piece of ground and secured by our sturdy fixing brackets.

Click on the pictures to enlarge
We made the bespoke top rail inline with the customer's requirements so that it could accommodate the engraved inscription. The bench also is engraved on the back rail as well as with names down the sides of the front legs.
New York memorial bench
The family of this York bench already had a bench installed in East Park but due to family circumstances the inscription needed changing. This is something we certainly could have helped with, however the customer elected to have a completely new bench installed.
Click on the pictures to enlarge
The top rail is engraved with a fitting commemorative tribute and we hope it provides a great resting spot for years to come.
If you would like to know more about these benches that we have installed in East Park or indeed our engraving service then click the links below or contact us on 01482 887921 for an informal chat.