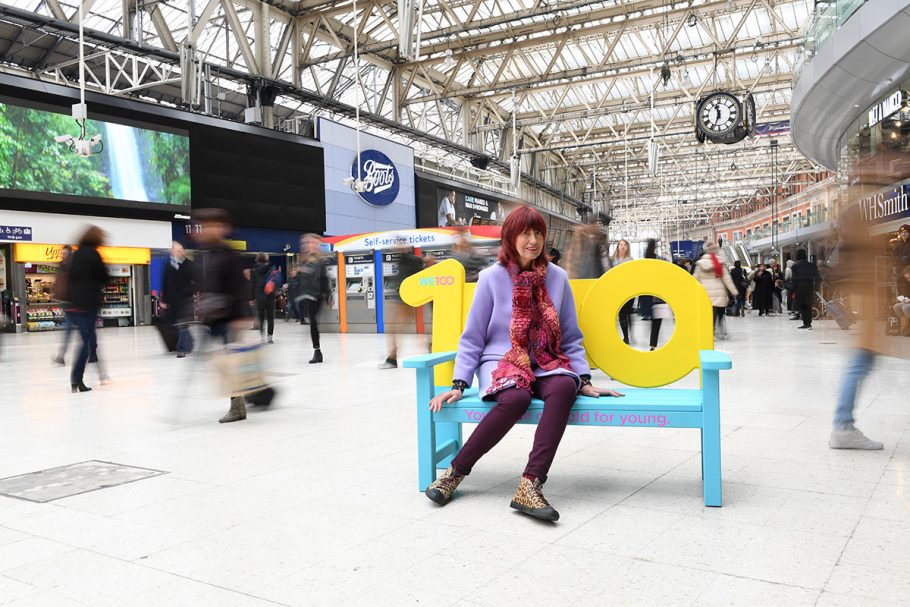 Janet Street-Porter Unveils a Woodcraft UK Bench for WE100
Posted on August 31, 2017
Over the decades, the team at Woodcraft UK has been involved in some really unique and special projects, from urban furniture, to memorial benches for private use. As specialists in bespoke wooden benches, we were delighted to be approached by leading PR agency Beattie Communications regarding a very high-profile project.
The brief was to design and build a truly eye-catching bench to support a campaign called WE100, run by their client Merck Consumer Health. This was a completely new type of design for us, so we were very excited to be involved, especially with its surroundings being London's bustling Waterloo Station.
The WE100 campaign promotes longevity up to 100 years through a fit and healthy lifestyle. The basic idea was that the bench should somehow incorporate the number 100, but that's easier said than done when taking into account comfort, safety and impact. We worked closely with our client to come up with a design that worked in every way, simultaneously grabbing attention, communicating a message, and inviting the passerby to enjoy a sit down during their busy day.
We love a challenge at Woodcraft UK, especially when the end result will support a good cause, and in this instance inspire positive change. After sharing ideas and going through multiple options, it was agreed that the entire backrest of this wonderful bench would be shaped as a '100', to then be painted in bright colours that include the full WE100 campaign name and tagline, "Young for old, old for young".
This two-way development phase meant that every aspect was tweaked to perfection before being decided upon. We pride ourselves on this type of working arrangement where suitable, as it allows for imagination and practical knowledge to be used to the full, leading to a first-rate and totally unique product.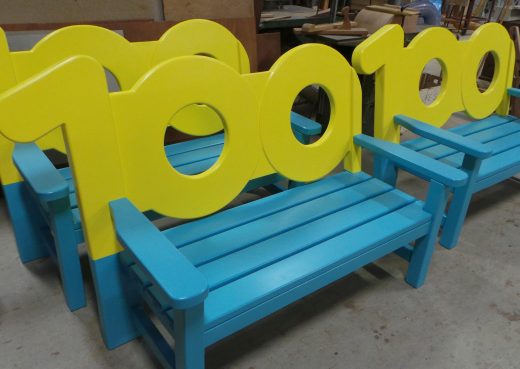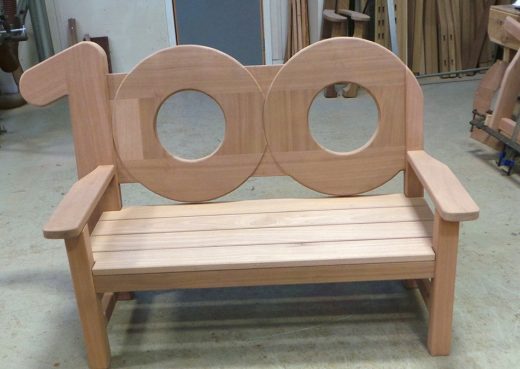 Once the design was approved, Woodcraft UK fabricated pieces of ply and hardboard, which acted as templates for our trademark high quality woods. These were then constructed by our experts into a sturdy, smooth and elegant bench that has been getting a lot of attention. This really is great news, as the WE100 campaign has a very important message for us all.

According to research commissioned by the initiative, older people are missing out on experiences that could benefit them as they age. Similarly, a third of older people never get round to things on their bucket list, simply due to the belief that they are too old and have missed their chance. Being scared and feeling lonely also often apply to this age bracket, with 77% saying that getting stuck in a routine stops them from trying new things.
WE100 tackles society's negative attitude toward ageing, whilst helping older people to get involved in exciting or even just everyday activities. Younger people can help greatly in this mission any way they can, from treating a neighbour or family member to a day out, to taking part in befriending schemes and visiting care homes to help out and start conversations.
Over the last few months, the bench has played a large role in WE100. With the original unveiled by campaign ambassador Janet Street-Porter in Waterloo Station in March (above), another was created and taken to Whiteley Village, a retirement community in Walton-on-Thames. Residents aged 65 to 106 then joined each other on the bench to share stories of first-time experiences, and it remains a popular place to have a chat on a nice, sunny day.
With the nation's population getting older every year due to a better quality of living and advanced healthcare, there are more people suffering from isolation and loneliness, or at the very least a feeling that they can't get involved in fun activity. Many older people even see the park, cinema and supermarket as being out of bounds, so together we can help individuals to enjoy life and fill their days with enriching social experiences.
Do you have a bespoke urban furniture project that you think Woodcraft UK can help bring to life? Get in touch today on 01482 887921, or use our contact form.
We'd also love to see photos of you and your friends enjoying a WE100 bench. Make sure to tag us in your photos on Facebook and Twitter.