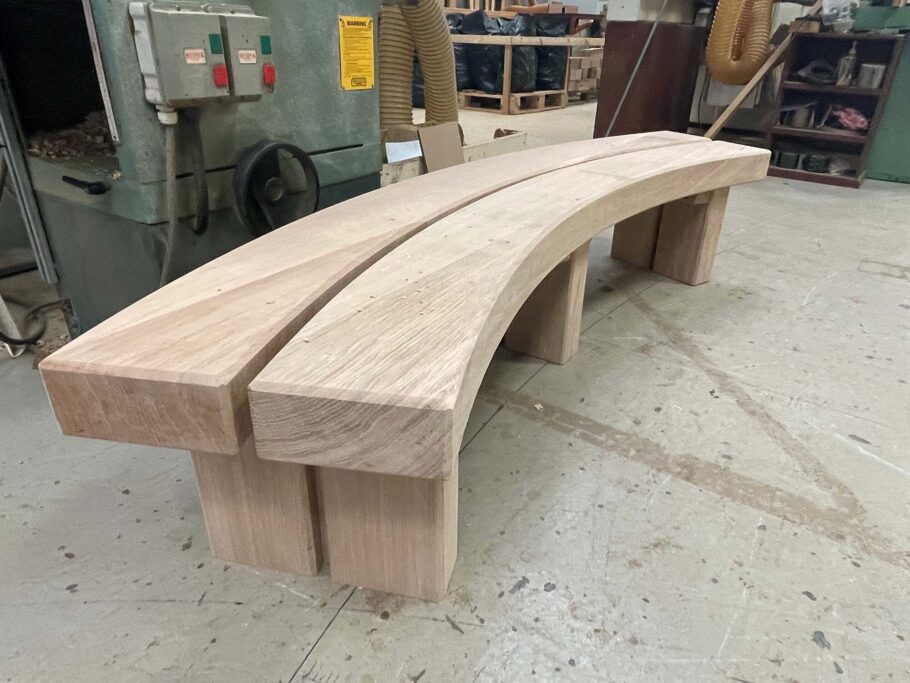 A new curved wooden bench based on an award wining design.
Posted on October 24, 2023
Back in 2018, when our we were asked to create a bespoke curved bench to be included in the Tatton Park RHS Flower Show garden entry Calm in Chaos designed by Max Harriman, we were delighted to find it won the Silver Gilt Medal.
Click on the pictures to enlarge
The garden was designed as a space to escape the stresses of urban living and highlights the benefits plants and gardening have on health and well being and focuses primarily on mental health. You can find out more about the involvement of our wooden bench in the Tatton Park flower show here and our bench is also featured in the video below.

Introducing the Tatton Park Bench
Since the creation of that original bench we have had more interest as customers enquire about this bench or something very similar in style. The shape has a very modern, minimalist approach and suits landscape gardens and spaces with a designed theme, lining the side of a tranquil pond or firepit.
Click on the pictures to enlarge
We have bevelled the contours to soften the edges throughout and allowed the seat to overhang slightly again to soften the look and feel.
Hopefully we'll get some new pictures for this bench when it's installed but if you want to know more about a bench like this then try our these pages: