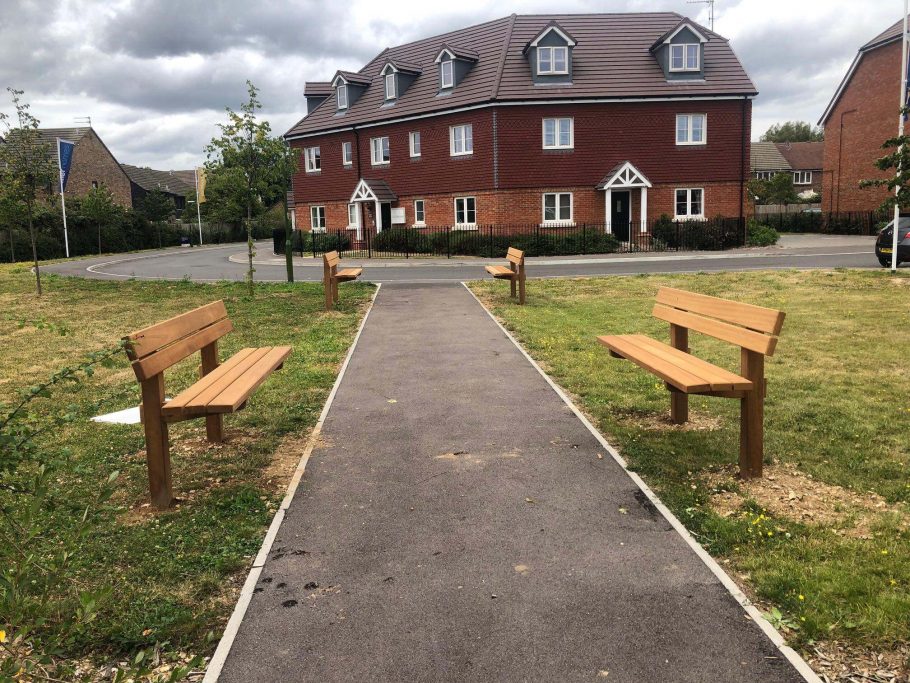 Our Staxton Benches head to Badger Heights in Tangmere.
Posted on August 27, 2019
Bader Heights in Tangmere, Chichester, West Sussex is a delightfully landscaped new neighbourhood incorporating a selection of energy efficient one to four bedroom houses arranged around open green spaces for which we have supplied our Staxton garden benches.
The diverse range of properties on offer has also ensured that there is something for everyone from first time buyers to families moving up the ladder and as such we are very pleased to be associated with nationwide house builders Miller Homes who have created this wonderfully well thought out and inclusive set of properties.

In June we supplied our Staxton hand built wooden outdoor benches for installation and they are now looking very well at home.

Click on the pictures to enlarge
The Staxton Garden Bench is perfect for this setting as it is essentially a very sturdy wooden bench that traditionally works for parks and open spaces. It's sturdy legs are cemented in to it's foundations well into the ground and doesn't rely on 4 legs to keep it upright.
For more information about our Staxton range of benches click here. Or Alternatively more information can be found with our 5ft Staxton Bench, 6ft Staxton Bench or all of our garden benches.

Below is a video by Miller Homes of the great housing development they have created.