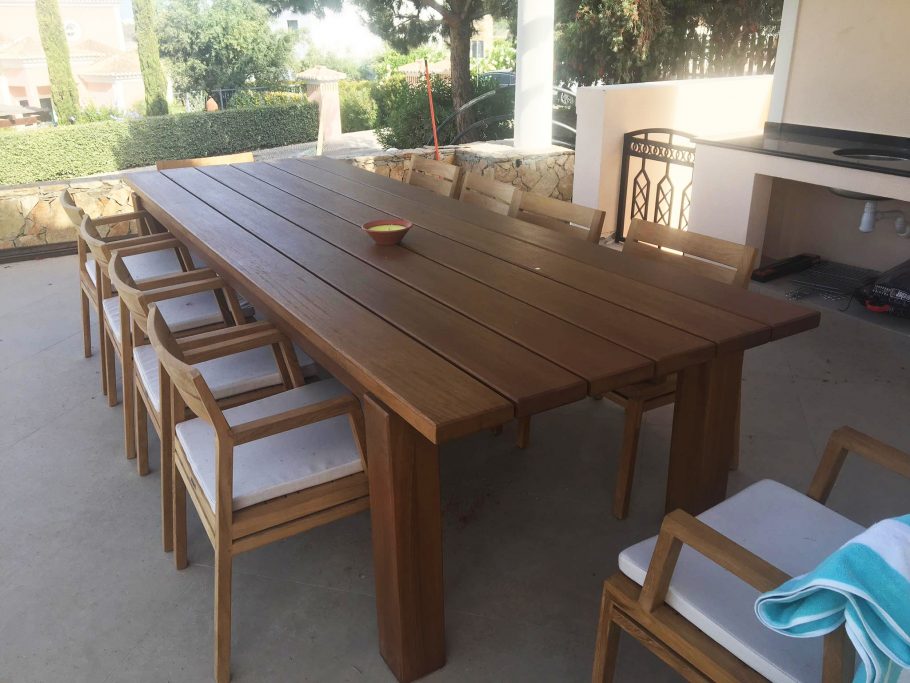 Large bespoke dining table sets sail for Portugal!
Posted on June 23, 2019
We are really happy with this very large 3.25 meter dining table. It is custom made to our customer's requirements and we have now shipped it to Middlesborough with an onward journey to the customers holiday home on Portugal.
Click on the pictures to enlarge
The private customer was absolutely thrilled when he received the table, and looked forward to shipping it over to Portugal to put in place in the patio of his sunny holiday villa.

Click on the pictures to enlarge
Before it's outward journey, the table received a coat of Alfresco colour protection, not necessarily for durability, but the Alfresco colour protection will help to slow down the weathering effect. A bit like applying sun tan lotion the protector will protect against the sun's rays especially as temperatures often reach in excess of 30 to 40 degrees Celsius in Portugal.
Click on the pictures to enlarge
We hope this patio table makes for a great centre piece for family and friends to experience alfresco lunch time dining and warm evenings staring up at the stars while enjoying each others company for years to come.
*EDIT*
Our customer came back to us and said..................
Hi Mike
Here are some shots of your beautiful table in situ !
Regards,
A.
Woodcraft are really pleased to be able to satisfy another valued customer.