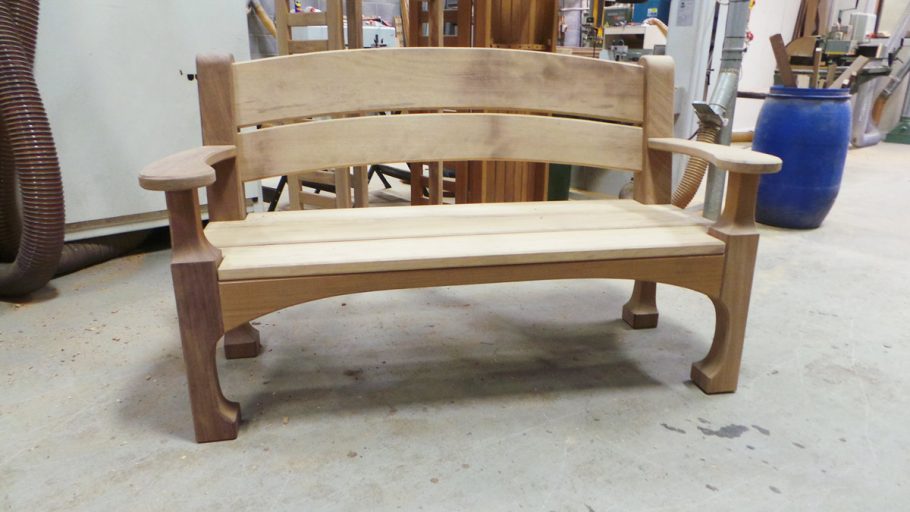 Working with the Customer to Make their Vision a Reality
Posted on February 21, 2018
Many customers old and new take advantage of our bespoke service, which allows practically any requirements to become the focus of a totally unique piece of outdoor wooden furniture. Whether you have an exact idea in mind or just the general gist, we're here to make it happen.
One of our repeat customers is Derek, who has been ordering from us for many years through his employer, a local authority that uses our benches everywhere from public parks to shopping centre courtyards. He recently got in touch with basic designs for something entirely different, wondering what they'd look like in real life. The bench was intended for his private garden to commemorate a loved one, as our memorial benches are ideal for paying tribute to those whose memory lives on.
Popping down to our offices for a chat over a cuppa, Derek showed us his basic sketches and asked our opinion. The idea was to include curves for the backrest and other features to achieve a softer look, complementing his garden whilst acting as a focal point with a story attached.
Having mulled over the original drawings, our experts whipped up another set that translated the designs to hardwood, including possible dimensions. Now, a few of us wanted to change the designs even further, but Derek was adamant that together we'd already captured his vision in ink. We're passionate about giving our customers what they want, so the next step was to transform the doodles into a robust, comfortable and weather-resistant wooden version.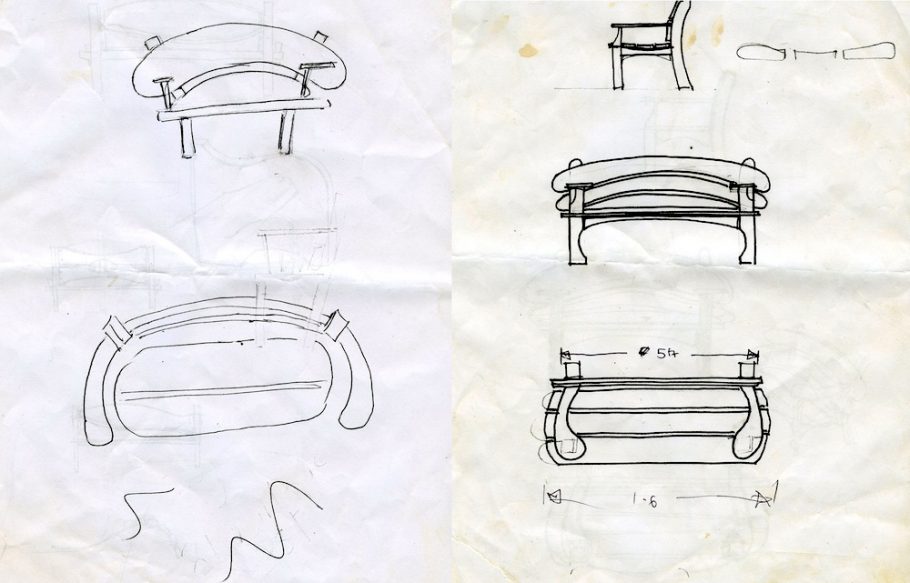 Derek collaborated with us throughout the design process, an option we offer if desired. This can be fascinating for our customers, as it gives you an access all areas experience of how we work. From start to finish, he watched us go through more detailed designs, plan out the individual wooden elements, manufacture the parts by hand, attach them together using the right fittings, quality check every stage, and even test it out – his dedication to this bench matched our own!
Now that it's all finished and happily sitting in his garden, Derek is very happy with his truly one of a kind memorial bench. The addition of a plaque allowed him to choose a fitting message that conjures up special memories and is a beautiful dedication to his loved one. He's considering ordering a bespoke garden table to go alongside it next summer, which will also be made using the finest iroko hardwood.
Something particularly unique about this project is that Derek said that Woodcraft UK can use the design in the future if it catches another customer's eye. So whilst his own bench is currently the only one in existence, it could be reproduced by hand for any location, from a private garden to a churchyard, a countryside footpath or a cultural attraction's picnic area.
If you'd like us to remake this bench or any other piece of outdoor wooden furniture or street furniture designing from scratch, simply get in touch with our friendly team on 01482 887921 or use our contact form. You'll be amazed by how easy it is to turn your dream design into a beautiful and functional reality.