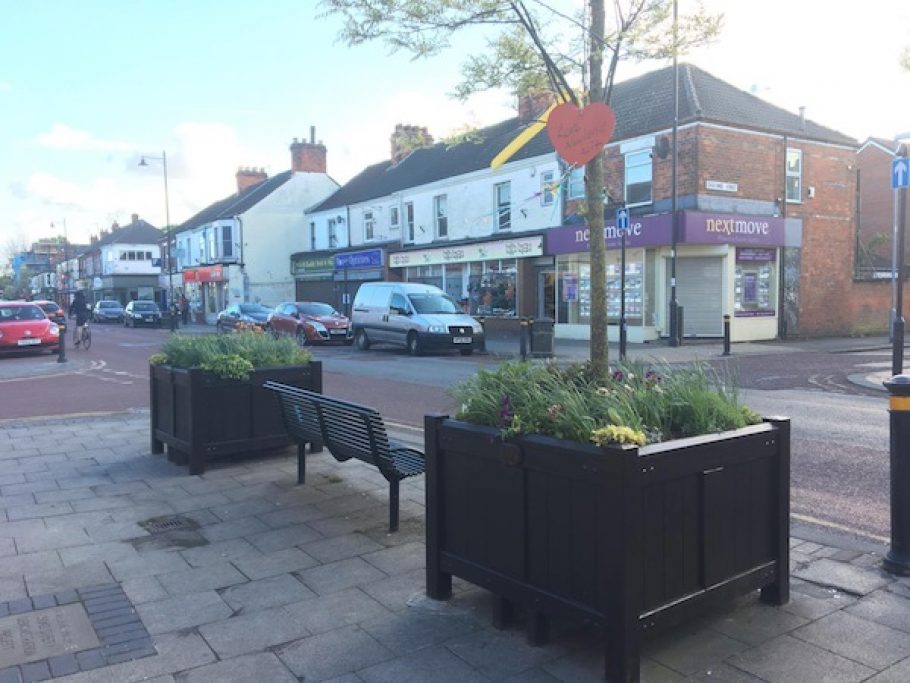 The Impact of Wooden Planters
Posted on April 27, 2017
It makes a huge difference to a place when the local community cares. Eileen Harland and the Newland Residents Association work hard each day to keep their local area, Newland Avenue in Hull, clean, tidy and well presented.
One of their main projects is the maintenance of the wooden planters that flank either side of the popular shopping through-way. We caught up with her to find out why these wooden planters are an important focal point for the local people.
Hi Eileen, we love some of the work that you do in the Newland Avenue area. Where did the idea come from?
It all started when the council gave up on the planters and were no longer looking after them. Another chap took over the maintenance of them, but soon got fed up. They unfortunately deteriorated quite quickly.
One day, I decided that I was going to do something about it. I went out and began to replant them. There are now about half a dozen of us who plant, decorate and keep the place tidy. We're all members of the Newland Residents Association.
Why do you think it's important to keep the streets tidy?
There are a million reasons. Mainly, it's to put a smile on people's faces. All the locals really appreciate it and often give us donations towards the upkeep of the planters. It's great because we rely on that money; it's how we're funded.
I just think it's important that everything looks nice, smart, clean and tidy. It makes a huge difference to people's lives.
And the planters are a key part in this?
Yes, I think they do wonders for bringing the community together. They act as a communication tool in a way. A lot of other people have started to contribute to the planters.
So, you could say that you've sparked a community movement?
I think so, yes. We've had lots of different things pop up that haven't been anything to do with us. Babes in the Wool, the knitting and haberdashery shop, recently decorated the planters with Easter-themed creations.
We also had an anonymous person put up plaques explaining how different cultures and countries celebrate Easter. It's so exciting to see more people getting involved and reclaiming the space.
What have you got planned for the future?
For summer, we're filling the planters with lots of colour and vibrancy. And then, come October/November, we'll be doing the poppy displays. We've already started preparing for Christmas 2017. Locals have been donating their old baubles, so we're going to go to town on decorating them in December.
Here at Woodcraft, we agree that wooden planters are a special addition to any street. We have a large range of free standing models, suitable for any private home or public space. We can also create unique designs for your individual needs.