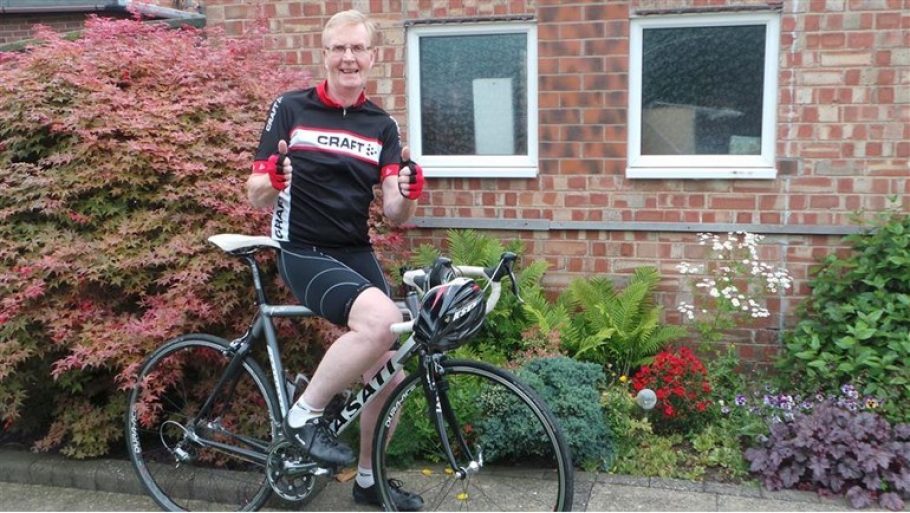 Cycling is in the Blood
Posted on July 13, 2016
Michael Davidson, owner of Woodcraft UK, is an avid cyclist, yet his sessions have been on hold since January 2015 following an accident whilst out on his bike. This resulted in the breaking of his femur which, despite two attempts to fix, led to a full hip replacement in January of this year. Michael has been undergoing intensive physiotherapy ever since and is now back on two wheels, working hard to rebuild the muscles that had atrophied during a long period of inactivity.
The accident took place whilst training for the London to Paris Bike Ride, which he sadly never got to take part in. However, with a worthy cause to push him forward, Michael is determined to complete this year's edition of the 500km trek that will take him from one capital city to another. The charity in question is Bloodwise (formerly Leukaemia and Lymphoma Research), which is committed to battling life-threatening diseases and blood cancer. With over 30,000 people in the UK diagnosed each year, the fatality rate is significantly high due to a lack of proper treatments being available. As with many charities,Bloodwise is dependent on public donations and corporate sponsorship to continue its crucial research, clinical trials, awareness campaigns and patient support.
In operation since 1960, the charity looks for ways to stop blood cancer before it starts by working with health professionals, patients and their families, researchers, fundraisers, volunteers and many more people involved in and affected by blood-related disorders, including leukaemia, lymphoma and myeloma. By developing new treatments and drug combinations, the organisation is giving blood cancer patients the best possible chance of survival. So, by supporting Bloodwise, you could be helping to save the life of a loved one in the future.
The London to Paris Bike Ride will see 250 cyclists of all ages and abilities depart from the historic Eltham Palace on Thursday 15 September and arrive on the stylish Champs-lyses four days later. Whilst covering some beautiful stretches of countryside and bustling urban hotspots, it is needless to say a grueling and unsympathetic task, even for the more experienced cyclist. As a result, large amounts of hardcore and comprehensive training are required, covering stamina, strength, perseverance, balance and coordination in order to match the demands of the route.
"This may be an ordeal in cycling terms," said Michael,"but it's nothing compared to what those affected by blood-related diseases have to go through.I'll be cycling with a friend, and we call ourselves The Yorkie Boys."
Michael can now easily exceed 40 miles in a single session, but there's still some way to go as the challenge requires riding 80 miles a day for four days in a row. As part of the training, and to take in some glorious scenery, the duo are cycling the Trans Pennine Trail, which hosts a fair few of our wooden outdoor products, from tables and benches to signposts and noticeboards.
"Woodcraft UK is covering the costs for this activity," added Michael, "so every penny donated by supporters goes direct to Bloodwise."
If you'd like to sponsor Michael on his mega journey from England to France, please visit his JustGiving page. Every penny is greatly appreciated and will go toward making a real difference for people across the UK for many years to come.