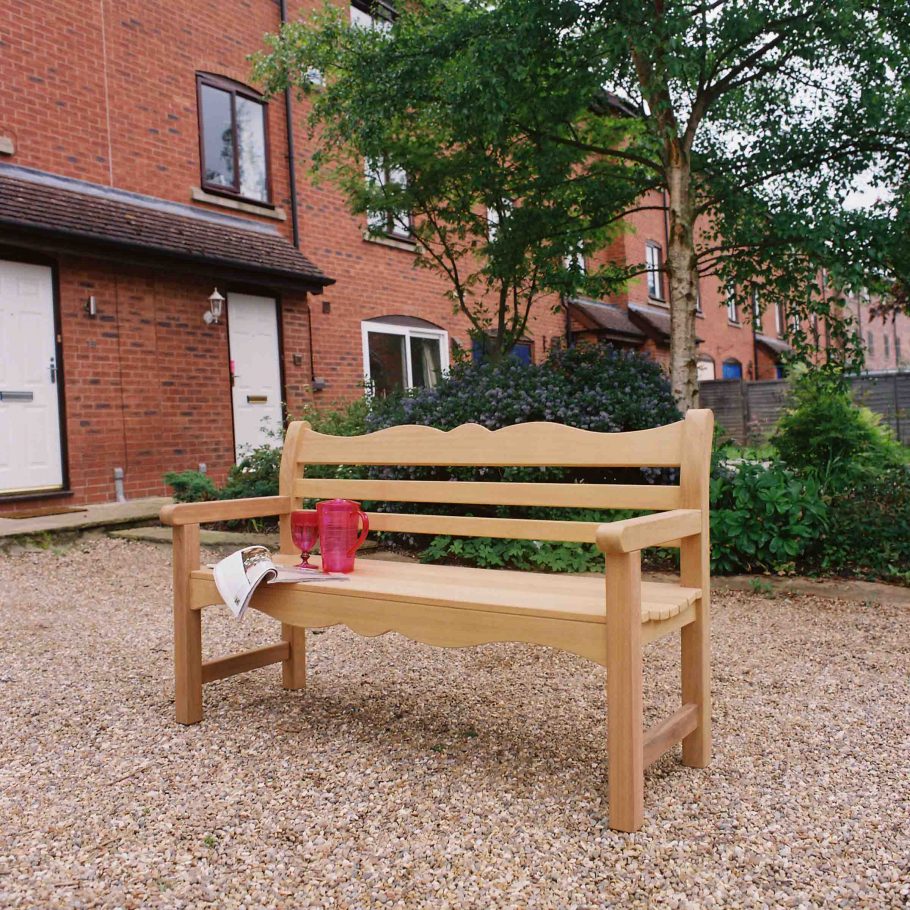 The Beverley Bench, named after the north's most desirable places to live!
Posted on September 23, 2014
Named after the Sunday Times most desirable place to live in the North east of England, we're particularly fond of the Beverley wooden bench range. It was Woodcraft UK's first bench design, and was released all the way back in 1989. Popular with a range of clients from the very beginning, we had a strong feeling that it would remain a success for years to come.
With its aesthetic design and comfortable form, it۪s no mystery why the Beverley bench is chosen for all manner of environments. Constructed by hand from durable hardwood, standard sizes are available in 4ft, 5ft and 6ft. However, at Woodcraft UK we pride ourselves on flexibility and customer service, so if you'd prefer a shorter or longer model to perfectly suit your needs, all you have to do is ask.
The Beverley bench is available with square arms or flat arms, depending on your personal taste. Not only that, but you can also pick from either a straight top rail or a shaped rail, including extra deep, curved and raised designs. These different rail options work well with plaques and engravings, as we have the capability to produce and engrave attractive commemorative and presentational plaques in a variety of durable materials. This includes timber engravings, metal badges, steel etched plaques and plastic embossed badges, which each have their own charm. Whether you wish to remember a loved one or pay tribute to a benefactor, or even add individual style in the form of a favourite quote, we have the answer.
As well as inscriptions, Woodcraft UK can engrave family crests or ornamental embellishments directly into the wood. Meanwhile, our plaques come in a range of finishes: bronzed, silver and gold anodised aluminium, or polished brass. So along with choosing the type of bench and its finer details, you can fully customise it with a special message to make it one of a kind whilst still blending in with its environment.
As for stability, all Woodcraft UK furniture comes with adaptable fixing options. Whether your Beverley bench is to be located on grass, soil, tarmac, concrete, paving stones or blocks set in concrete, we supply the fixing brackets that will keep it safe and secure. These fittings are in stainless steel for extra strength and durability, complete with all necessary fixings. A choice of standard screws or non-return security screws is supplied as standard, and hard ground brackets also come with expanding anchor bolts.
And we can't recommend the Beverley bench without also drawing your attention to the Beverley chair. Complementing your bench beautifully, this stylish model can be supplied either as an outdoor chair or as a garden armchair version with square arms or flat arms. Thanks to its weather resistance, the Beverley range is ideal for private gardens and public spaces alike, not to mention commercial grounds, churchyards, allotments and anywhere else beneath an open sky or secluded shady patch.
As with our entire range of products, our benches and chairs are created using only the finest ethically sourced materials, all to the highest standards. For more information, call Woodcraft UK on 01482 887921 and let us know how we can help.