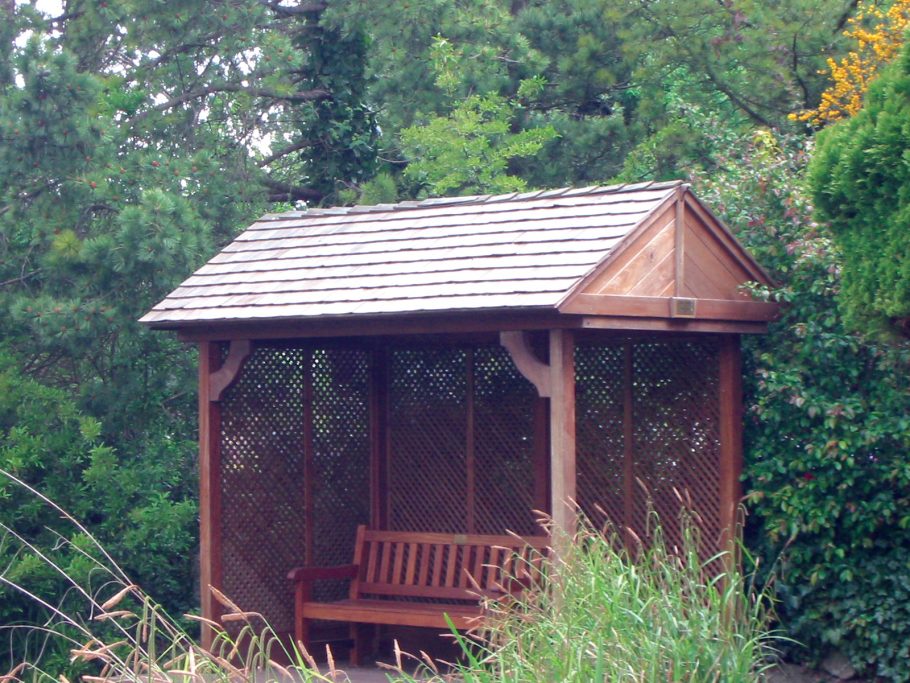 Create your personal retreat with a hardwood cabin
Posted on July 28, 2014
Summertime!
There۪s nothing quite like a British summer, in that sometimes it can be like spring, autumn and even winter too, all within a single week. Still, we always make the most of it by firing up the barbecue, laying down the picnic blanket, and wearing garish T-shirts and shorts at every given opportunity. It۪s the perfect time for getting into the garden and enjoying the grass, flowers and open sky before it begins to get cold again, so having the right kind of outdoor furniture is essential. A luxury bespoke hardwood cabin can make a beautiful center piece for any garden, grounds or park and can be enjoyed all year round, making for a wonderful summerhouse, or great Autumn shelter during bonfire celebrations.
An eye-catching addition
At Woodcraft UK, we hand craft bespoke chairs, garden benches, outdoor tables and all other manner of garden furniture, but if you۪re looking to really treat yourself, we recommend one of our beautiful and elegant hardwood cabins. Designed to blend unobtrusively into an outdoor setting, these picturesque garden structures combine attractive appearance and practical functionality, making them ideal for a variety of roles.
Your special spot
Just imagine a cosy haven next to a garden pond, where you can sit back and relax whilst watching the koi carp go about their business. Or a comfy retreat in the shade of a tree as its leaves rustle in the wind, with wild flowers dotted all around you. There۪s nothing quite like relaxing in the garden, and with one of our handsome cabins, you۪ll never want to go back indoors!
The finest construction
Durable and solid, our bespoke hardwood cabins are made to your specifications. This means it can be roofed in materials such as felting and shingles to keep the weather at bay. You could also opt for panels and trellising, or with windows in safety glass or unbreakable polycarbonate; whatever your requirements we can advise on the best way forward. This means that you can fully customise your cabin, making it stand out from its surroundings, naturally blend in, or even become a part of its habitat by growing ivy or roses all around.
Be the envy of the neighbourhood
Ideal for parties, get-togethers and even casual business meetings, a cabin truly is a piece of furniture that adapts to every function, not to mention act as an appealing part of the garden in itself. Perfect when accompanied by a Woodcraft hardwood bench, it۪s an affordable luxury that can be enjoyed for decades by all the family.
Because you deserve it
Ideal for summer days and autumn nights alike, call Woodcraft UK on 01482 887921 to order your bespoke garden cabin. Once installed you۪ll wonder how you ever lived without one, so pour yourself a Pimm۪s and start enjoying your new lifestyle right away!